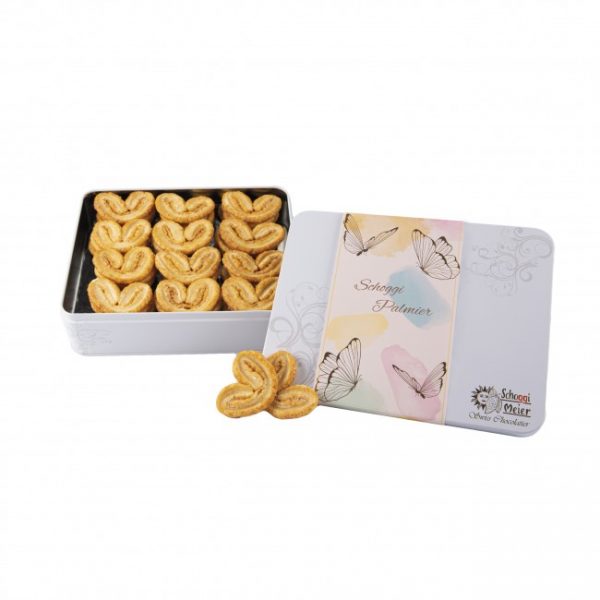 Palmier treats by Hong Kong chocolatier Schoggi Meier
Indulge in a masterfully crafted palmier treat by Hong Kong-based international Swiss chocolate maker, Schoggi Meier. Better yet, send the special people in your life a Hong Kong palmier tin of 48 as a gesture of love.
Treat your loved ones with a Hong Kong Palmier gift
Commemorate your life's most special events with a lavish palmier gift box by Schoggi Meier of Hong Kong. The company may be known for their Swiss chocolates but they are also some the best premiere palmier cookie makers in all of Hong Kong. A palmier is a puff pastry that comes in the shape of leaves, while others call it elephant ear cookies, to many it simply looks like a heart-shaped cookie. No matter how you decide to describe the palmier, it is a treat that no one in Hong Kong can deny they would love to have a bite of. The palmier by Hong Kong Swiss chocolatier, Schoggi Meier consists of 144 layers of premium quality butter puff pastry. It comes straight from New Zealand to give the people of Hong Kong a truly remarkable and extraordinary gustatory experience with every bite of the delicate palmier.
Trust Schoggi Meier for your special occasions
Forget about giving your loved ones pastries from overly commercialized bakeshops just because they are more economical. Remember that your gift is a direct representation of how you feel about your recipient. Make the right move and invest in gifting them with luxe pastries from an international brand. The Hong Kong-based Swiss chocolate company prides itself in producing the most indulgent palmier cookies in the country. Known for freshly made Swiss chocolate with only top quality ingredients, you can trust Schoggi Meier to assist you in creating memories to last a lifetime. The Hong Kong brand's posh palmier tin comes with 48 carefully crafted cookies for your loved ones to delight in and share. Indulge in the light, buttery goodness of the Schoggi Meier of Hong Kong palmier tin of 48 on every one of your special occasions.
When the women of your life deserve only the best
The tin of Hong Kong palmier cookies is large, white, and decorated with a butterfly design. It is best given as a gift to the special women in your life whether they are your mother, your beloved wife, doting girlfriend, or your loving daughters. The stunning design is sure to captivate any woman's heart, making you ever more favorable in their eyes. The sweet palmier treat by the Hong Kong chocolatier is perfect to make any special life event even sweeter! Gift the special women in your life with only the best Hong Kong palmier cookies and pair them with Swiss chocolates to make unforgettable memories together.
Going beyond giving ordinary gifts
You will be thrilled to know that Schoggi Meier offers its clients the privilege of customizing their gifts. The Hong Kong Swiss chocolatier boasts of an expansive catalogue of customizable chocolate products. If you ever find yourself with the need to come up with creative ways to make your gifts even more special, we suggest you enlist the help of the experts. Here are some ways you can take your Hong Kong palmier gift a step further with product customization: Add personalized chocolate treats and build a hamper, create a custom wrapper or packaging, Print a special message on your additional chocolate treats.There are countless ways to add flair and flavor to your Hong Kong palmier gift that will make your loved ones feel just how special they are to you.
Schoggi Palmier (48pcs)
Made with high-quality butter puff pastry from New Zealand
100% Pure Butter with 144 layers
Strong butter flavour and crispy
Earliest Delivery: 3 working days
$199.00
Description
Weight: 240g
Box Size: Approx. 20.7 x 16 x 6.2cmH
Weight: 240g
Box Size: Approx. 20.7 x 16 x 6.2cmH
Wheat Flour, Butter, Sugar, Salt
Contains cereals containing gluten, eggs, tree nuts, soybeans, milk
May contain traces of peanuts and their products
Dimensions
Ingredient
Nutrition
Allergens
Weight: 240g
Box Size: Approx. 20.7 x 16 x 6.2cmH